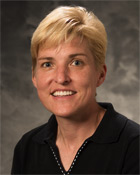 UW Radiology's Dr. Lonie Salkowski, of the Breast Imaging Section, has been chosen as one of four recipients of the 2012 Dean's Teaching Award.
These awards, distributed by the UW School of Medicine and Public Health, recognize excellence in teaching, curriculum development, and educational leadership. Each recipient has a career distinguished by creativity and innovation in medical education, and has shown a high level of teaching effectiveness and dedication. These qualifications are determined through careful examination of peer reviews, student evaluations, written course materials, publications, and presentations.
Beginning at the Medical College of Wisconsin, and continuing at the UW, Dr. Salkowski has transformed her interest in teaching into an area of research interest. Specifically, she has become interested in curriculum development and the mechanisms by which students learn and assimilate concepts. She has integrated computer based radiologic anatomy curriculum into the UW Anatomy 711 course, become a member of the Anatomy Task Force, and joined the Year 1 Curriculum Development Committee.
Dr. Salkowski was be presented $750, and an individual plaque at Medical Education Day on Friday, March 9, 2012.