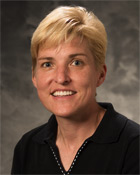 Professor Lonie Salkowski, M.D., has been appointed Vice-Chair for the RSNA Education Study Section from December 2014 to December 2015, to be followed by a three year term as Chair of the RSNA Education Study Section through December 2018.
Dr. Salkowski brings a wealth of educational experience to the table, including a master's degree in Education Leadership and Policy Analysis and co-authorship of an anatomical imaging textbook, "Imaging Atlas of Human Anatomy," now in its fourth edition.
The RSNA Education Study Section plays an extremely important role in the Research & Education (R&E) Foundation's efforts and is critical to its success. Through funding grants and awards to individuals and institutions, the R&E Foundation advances radiologic research, education, practice, and ultimately patient care. In its 30-year history, the foundation has awarded $44 million in support of more than 1,100 grant projects.
According to RSNA.org, surveys of grant recipients reveal that for every dollar granted, foundation grant recipients receive more than $40 in subsequent funding as principal or co-investigator from sources such as the National Institutes of Health, National Institute of Biomedical Imaging and Bioengineering, and National Cancer Institute.