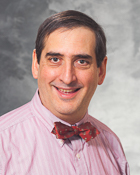 Professor Ken Schreibman has been elected to become a fellow in the American College of Radiology (ACR) on the basis of his "outstanding contributions and service to radiology." The convocation ceremony will be held at the ACR Annual Meeting in Washington, DC, on May 15th, 2011.
Other faculty in the UWSMPH Department of Radiology who are Fellows of the ACR:
Lynn Broderick
Marshall Colburn
Arthur De Smet
Thomas Grist
Fred T. Lee, Jr
Myron Pozniak
Pamela Propeck
Michael Tuite
Patrick Turski
Donald Yandow
According the ACR website:
One of the highest honors the ACR can bestow on a radiologist, radiation oncologist or medical physicist is recognition as a fellow of the American College of Radiology. ACR Fellows demonstrate a history of service to the College, organized radiology, teaching, or research. Approximately 10% of ACR members achieve this distinction.
Learn more about ACR Fellowship at acr.org