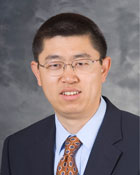 Associate Professor Weibo Cai, Ph.D., Director of the UW Molecular Imaging and Nanotechnology Laboratory , was invited to serve on two subcommittees of the Society of Nuclear Medicine and Molecular Imaging (SNMMI).
Dr. Cai will be serving one year terms on both the Young Professionals Committee (YPC) and the Committee on Awards. The YPC's mission is to ensure that nuclear medicine residents and fellows have the opportunity to enhance their educational experience through participation in the national society. Meanwhile, the Committee on Awards is responsible for evaluating grant applications, selecting award winners, reporting to the SNMMI Board of Directors, and conducting an annual review of non-donor grants.
Headquartered in the outskirts of Washington D.C., SNMMI is a nonprofit scientific and professional organization that promotes the science, technology, and practical application of nuclear medicine and molecular imaging.
Read about the UW Molecular Imaging Lab's recent success at the 2014 SNMMI Annual Meeting.