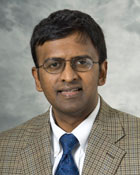 The UW Radiology Driving Research Group, established to identify neural correlates of older driving behavior, received a 2011 Graduate School Fall Research Competition Award.
The $60,000 grant, which is provided by the UW Graduate School, was established to support multidisciplinary research, assist junior faculty in strengthening their research programs, and foster creative research.
The Driving Research Group will be using the funds for research in which participants will undergo brain imaging, driving simulator testing, and neuropsychological testing which will allow for characterization of safe and unsafe drivers.
The interdisciplinary research group includes UW Radiology's Assistant Professor Vivek Prabhakaran and Postdoctoral Fellow Veena Nair, UW Kinesiology's Professor Dorothy Edwards, and UW Civil Engineering's Associate Professor David Noyce and Assistant Researcher Madhav Chitturi.