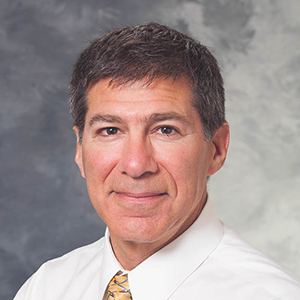 There are many exciting developments transpiring in the Nuclear Medicine and Molecular Imaging Section. The Section's is working with an investigational new drug (IND) tracer to identify abnormal parathyroid tissue. The tracer, fluorocholine, is only being used in a few places across the country. The UW Radiopharmaceutical Production Facility recently had success purifying a form of this drug for use. Abnormal parathyroid tissue is difficult to image, but the fluorocholine tracer will help improve PET/CT and MR imaging. Section Chief and Professor Scott B Perlman, MD, MS is leading the charge with the help of other section personnel. There is a lot of paperwork and approval processes to go through, but Dr. Perlman hopes that clinical work with the tracer can begin in late spring of 2021.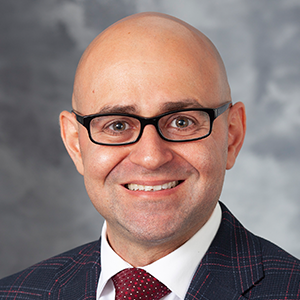 Clinical Director of PET/MR and Assistant Professor Ali Pirasteh, MD is leading the expansion of the PET/MRI program. The program is a clinical and research collaboration between the Nuclear Medicine and other Department of Radiology sections. The simultaneous PET and MR imaging delivers the optimal diagnostic information, empowering physicians to make the best treatment decisions for patients. "The program is evolving to improve patient satisfaction by reducing scan times as it has the advantage of acquiring two image sets simultaneously. Furthermore, novel PET and MR imaging techniques are constantly in development, which will make a tangible impact on the future of hybrid molecular and morphologic imaging," says Dr. Pirasteh.
Professors within the Nuclear Medicine and Molecular Imaging Section have collaborated with AIQ Solutions, a Madison-based start-up, to develop a software to help with tumor response assessment. The aim is to develop a software that can assess tumors on an individual level to determine whether each tumor is responding to treatment. This software would help physicians read scans and determine the best course of treatment. While current prototypes are in the early stages of development, the preliminary software is very impressive, notes Dr. Perlman.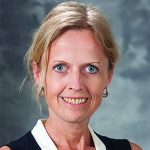 Assistant Professor Joanna E Kusmirek, MD is collaborating on numerous research studies, mostly focused on cardiology. She collaborates with Professor Elizabeth Sadowski, MD, on PET and MR projects focused on pulmonary nodules and gynecologic malignancies. Clinical Assistant Professor Nevein Ibrahim, MD assists with the pulmonary nodule research, and Assistant Professor Steve Y Cho, MD works with the gynecologic malignancy research. Dr. Kusmirek helps evaluate pulmonary hypertension patients with V/Q scans for research in the Pulmonary Hypertension Clinic. She also recently started working with Assistant Professor Sofia Masri, MD on cardiac sarcoidosis evaluation by helping with PET, CT, and cardiac MRI.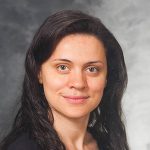 The Therapy Service is continuing to expand to provide care for patients with neuroendocrine tumors. In January 2018 a new drug, Lutathera, was approved for use with neuroendocrine tumors. UW was the first hospital in Wisconsin to start administering the drug to patients. Since the hospital was approved to provide the treatment, Drs. Perlman and Cho have continued to treat patients. Dr. Perlman commented on the collaborative, interprofessional nature of this treatment, as he works with personnel in oncology, radiation safety, nuclear medicine, radiopharmacy, and more, to safely administer the treatment to patients.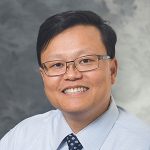 This service is just one of the ways that the Nuclear Medicine Section is endeavoring to use more theranostics treatments. Theranostics, a combination of therapeutics and diagnostics, is a treatment where one radioactive isotope is used to identify the tumor and a second radioactive isotope is used to deliver therapy to the tumors. In theranostic cancer treatment, imaging-based dosimetry guides therapy dosing. Physicians can quantify tumor uptake for each patient and use that to deliver an individualized radiation dose of the therapeutic agent. "Our goal is to develop and expand theranostics because that is the future for cancer treatment," says Dr. Perlman.
Related to theranostic treatments is the new SPECT/CT scanner that was installed in the UW Small Animal Imaging and Radiotherapy Facility (SAIRF) this summer, the first and only preclinical SPECT/CT in the state. This scanner has the potential to be a key player in theranostic cancer treatment, particularly during the preclinical research stages that test the effectiveness of different isotopes.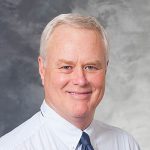 Professor Jamey Weichert discusses how theranostics is proving to be effective in mice. "We are now using our targeted radionuclide therapy agent, NM600, to enhance systemic immune detection and response to a variety of solid metastatic cancers in mice…when combined with immunotherapy, the results are striking with typically over 70% of mice experiencing complete tumor responses while developing T-cell immune memory which kills tumor cells injected months later," says Dr. Weichert.
This and other studies on theranostics lend hope for the future. "This scanner is key for the development of a clinical theranostic center of excellence which will hopefully establish UW as a leading destination theranostic cancer treatment facility capable of conducting paradigm-changing clinical cancer treatment trials," says Dr. Weichert. "One goal is to develop and expand theranostics because that is the future for cancer treatment," says Dr. Perlman.