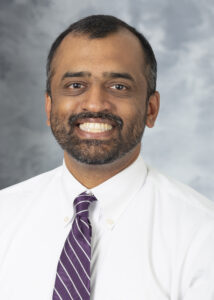 Anand Narayan, MD recently joined the Department of Radiology as an Associate Professor (CHS) in the Breast Imaging section and the Vice Chair of Health Equity. Continue reading to learn more about Dr. Narayan. 
Q: Where are you from?
A: I am from Baltimore, joining from Massachusetts General Hospital. 
Q: Where did you attend medical school?
A: John Hopkins University 
Q: Why did you choose Radiology?
A: For me, it's the opportunity to have meaningful impact on patients' lives. From a public health perspective, I can address health disparities in breast imaging.  
Q: What are your clinical and research goals?
A: My clinical background is in breast imaging and epidemiology. From the research and clinical sides, I am interested in breast cancer and imaging. From the administrative side, I am very interested in the diversity and inclusion efforts, which I focused on in my role at Massachusetts General Hospital. I look forward to working with Dr. Daniela Martin on diversity and inclusion in this Department.  
My research interest is focused on reducing breast cancer disparities. I love and embrace Wisconsin Idea, that allows for research on real-world issues, which breast cancer disparities are a major issue in Wisconsin. I focus a lot of my energy on diversity and equity, and I want to focus my research on addressing disparities. 
Q: What are your goals as Vice Chair of Health Equity?
A: I want health equity to be central to the DNA in this Department. From the clinical, education, faculty recruitment, research, and ability from an administrative perspective, diversity and inclusion touch at every element of those areas. Diversity and inclusion cannot be an afterthought. It's not something that checks a box. It's central to our DNA. 
Q: Why did you choose UW/What are you excited about at UW?
A: I appreciate the departmental commitment to diversity and inclusion. I think we can lead a national conversation in radiology. I really think Dr. Tom Grist is solidly committed to these issues, and I think we can make a big impact. I am also enthralled with incorporating the Wisconsin Idea to reduce breast cancer disparities in Wisconsin. I love that we are not here to sit in a classroom or research lab; we are here to benefit the residents of the state. 
On a personal note, my wife is from Madison, so it's great to be closer to family especially with raising kids here. My son is 3 and my daughter is 2, and we are excited that there is nice public school system and an affordable living cost. 
Q: What are your hobbies?
A: I am big-time into sports. Being from Baltimore, I do root for the Ravens. But since moving, I rooted for the Milwaukee Bucks in the NBA Finals and bought my kids Badgers shirts! I also like reading and working out in my free time. My wife and I like to watch a lot of TV shows and documentaries. With the kids, we like to take them to a playground to goof off with them. I am also excited to return to traveling and finding the local hikes.