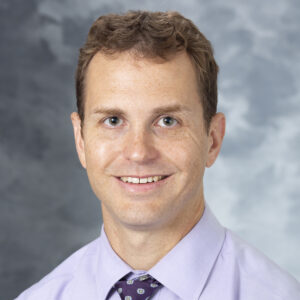 John Symanski, MD recently joined the Department of Radiology as an Assistant Professor (CHS) in the Musculoskeletal Imaging and Intervention section. Continue reading to learn more about Dr. Symanski. 
Q: Where are you from? 
A: Milwaukee area 
Q: Where did you attend medical school? 
A: Medical College of Wisconsin 
Q: Why did you choose radiology? 
A: I've enjoyed imaging ever since starting clinical rotations in medical school.  I also like doing procedures, so radiology was a good fit. 
Q: What is your specialty? 
A: MSK radiology 
Q: What are your professional interests? 
A: Ultrasound guided procedures, particularly nerve blocks; education, including 3D models; sports medicine; MSK oncologic imaging and procedures.   
Q: Why did you choose UW/What are you most excited about? 
A: I chose UW because of the strength of the faculty and the strength of it as a teaching facility. That strength describes working with colleagues in clinical, education, and research. It really is everything you could want in one section! 
Q: What are your hobbies? 
A: I love fitness, chasing around my three young kids and cheering for the Packers, Brewers, Bucks and Badgers.