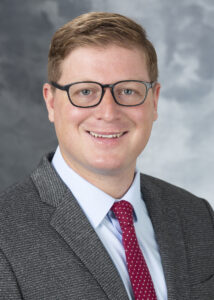 Mitchell Daun, MD recently joined the Department of Radiology as a Clinical Assistant Professor in the Community and Musculoskeletal Imaging and Intervention sections after completing his Diagnostic Radiology Residency at the University of California – Irvine and Musculoskeletal Imaging Fellowship here at UW. Continue reading to learn more about Dr. Daun. 
Q: Where are you from?
A: Waupun, Wisconsin which is about an hour away from Madison. 
Q: Where did you attend medical school?
A: Medical College of Wisconsin 
Q: Why did you choose Radiology?
A: I like diagnostic imaging of musculoskeletal diseases. It's exciting to me, and Radiology offers a pretty large volume of that on a daily basis. 
Q: What is your specialty?
A: MSK Imaging and Intervention. I am part-time in the academic MSK section and the rest of the time in the Community section. 
Q: What are your clinical and research interests?
A: My clinical interests are MSK interventional procedures, including diagnostic and interventional ultrasound, and resident and fellow education. One of my goals I discussed with my section is to establish an MSK fellow curriculum.  
For research, I'm mostly interested in quality improvement, from our MSK diagnostic and interventional perspectives.  
Q: Why did you choose UW/What are you excited about at UW?
A: The people. The MSK section here, where I just completed my fellowship, is a really talented, incredible group of individuals. Besides that, we do a lot of high-end diagnostic and interventional work that other places don't do. This is a really attractive place to work. 
Q: What are your hobbies?
I like classic cinema, trivia, golf and rock-climbing!