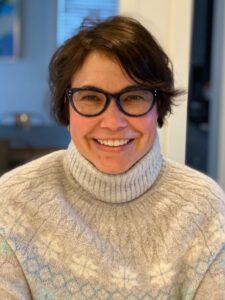 Molly Raske, MD has joined the UW Department of Radiology as a Clinical Professor (CT) in the Pediatric Imaging section. Dr. Raske earned her MD from The Ohio State University School of Medicine and Public Health. She completed her General Radiology residency and Pediatric Radiology fellowship at the University of Washington. Previously, she worked as a Pediatric Radiologist in the Children's Hospitals and Clinics of Minnesota. Keep reading to learn more about her:  
Q: Where are you from?  
A: I am from Dayton, Ohio. 
Q: Why did you choose radiology?  
A:  I like the intellectual challenge of determining a diagnosis through imaging and also enjoy the role of consultant to clinical teams. I feel lucky to have a job where I get to work with smart and committed colleagues from whom I learn every day.  
Q: What are your career interests and goals?  
A: At this point in my career, I'm interested in passing along knowledge I've gained through experience. I want to help medical students and residents understand not only pediatric specific imaging but how to approach challenging cases and provide excellent, detail-oriented care. 
Q: What are your clinical interests?  
A: Pediatric abdominal and urological imaging, sustainability in radiology 
Q: Why did you choose to work at UW?  
A: I've heard for years about the supportive environment at the UW Department of Radiology and knew it to be a place where radiologists can thrive. In addition, being at UW gives me the ability to be a part of a team that provides outstanding care. 
Q: What are your hobbies?  
A: Running, hiking, reading, and spending time with my husband, family and friends.