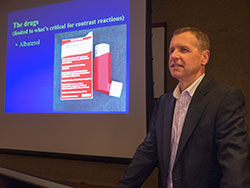 On August 15, Dr. Myron Pozniak gave his annual update on contrast reaction management at the Department of Radiology Grand Rounds lecture.
Dr. Pozniak reviewed the evolution of contrast agents, detailing their chemical structure up to those used presently. Contrast agents help all Radiologists get the stunning images that are important for both research and diagnosis alike. However, like any drug, IV contrast administration can occasionally result in a life threatening reaction. With the newer safer agents the likelihood of such an occurrence is rare; therefore, Dr. Pozniak believes it important that UW Radiologists undergo an annual review of how to best respond.
Dr. Pozniak stressed that in the case of a reaction; radiologists should remain calm and focus on the patient. Most contrast reactions are mild, and are limited to nausea or hives. For these symptoms, Dr. Pozniak recommends observation or Diphenhydramine. Bronchospasm, presenting as wheezing or shortness of breath should prompt rapid administration of albuterol via inhaler (pictured above). If the patient does not respond or progresses to laryngeal edema, epinephrine must be available. Dr. Pozniak mentioned that with these two drugs the vast percentage of contrast reactions can be successfully managed.
Dr. Pozniak further noted that in addition to the doctors, the entire team including technologists and radiology nurses need to participate in the event of a reaction. Many tasks need to be performed rapidly for the best result.
For UW Radiology, patient safety is of the highest importance, and continued education like this Grand Rounds lecture are a useful resource in maintaining preparedness. To further review contrast policies and protocols, please visit the Contrast Corner located within the Radiology Intranet.