At Medical Education Day on June 1, Greg Avey, MD received the 2023 Dean's Teaching Award. This peer-selected honor recognizes his commitment to excellence and innovation in medical education.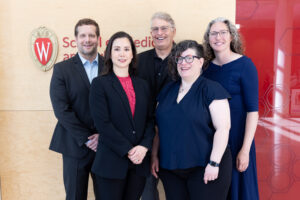 "As an educator, my passion lies in making a meaningful impact on the lives and careers of our exceptional and diverse group of medical students," says Dr. Avey. "It brings me great joy to work alongside these talented individuals and witness their growth and development." 
Dr. Avey has been with the Department since 2011. Now an Associate Professor in the Neuroradiology Section, he has made significant contributions to improving the educational offerings for all trainees. Already, his excellence in education has been recognized with honors such as the 'Teacher of the Year' award from the Radiology Residency in 2016, and the Department of Radiology Medical Student Teaching award in 2022. 
"He engages undergraduate students, medical students, residents and fellows and engenders excitement about the importance of imaging in the context of patient care," says Tabby Kennedy, MD, who nominated Dr. Avey for the award. 
His successes as an educator include creating a structured 4-week curriculum for Diagnostic Radiology Residents to learn about the head and neck imaging, his extensive involvement with the weekly interdisciplinary head and neck tumor board, and his participation in didactic sessions as part of the ENT, ophthalmology and Radiation Oncology residency curricula. Due to his efforts, the head and neck rotation consistently earn high marks – and high praise – amongst the radiology residents. 
His expertise in head and neck imaging is renowned nationally, not just within the UW-Madison community. Dr. Avey has given over 20 talks at national conferences about advanced imaging techniques for the head and neck. 
Dr. Avey's passion for education extends beyond the nuances of image interpretation. He is known as a leader in teaching financial literacy and wellness, both within the Department and on the national stage. His guidance has a lasting positive impact on each of his student's lives, and his lectures are integrated into the Radiology residency program, the Fellowship lecture series, and the Department's Grand Rounds lecture series. For many students, his financial wellness course is the first time they have the opportunity to deeply consider their lives and careers in a truly holistic manner. Dr. Avey feels privileged to help them create a plan that will help them achieve happiness, fulfilment, and success in their lives and careers.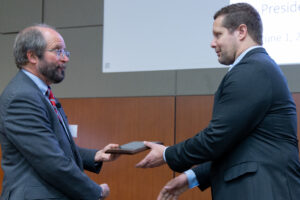 "Receiving recognition from the Dean and my colleagues fills me with a deep sense of gratitude," says Dr. Avey. "This award reinforces my belief in the importance of student-centered education and encourages me to continue to find new ways to enhance the educational experience for our medical trainees." 
 We thank Dr. Avey for his dedication to making a meaningful impact on the lives and careers of our exceptional students!