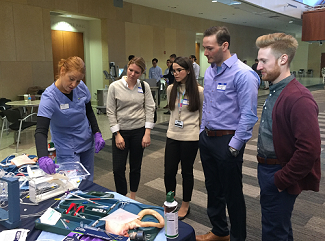 The University of Wisconsin School of Medicine and Public Health Department of Radiology recently hosted the Third Annual Interventional Radiology Symposium for Students at the Health Sciences Learning Center on January 13. The event was a joint effort between the UW Department of Radiology and the Interventional Radiology Interest Group to offer interested medical students a chance to learn more about interventional radiology, a rapidly developing subspecialty of radiology.
Over 30 medical students from six different medical schools attended the event, which included faculty lectures and participation in a two-hour hands-on workshop demonstrating interventional radiology techniques. Students travelled from as far as California to attend the symposium, including two students who arrived in Madison a day early to tour the department and meet UW faculty before the symposium. The Department of Radiology's contribution allowed for the event to be free and to offer a special after-symposium social event at Oliver's Public House to continue the discussions about interventional radiology.
The program included presentations from UW's Meghan Lubner, MD, on tumor ablation; Orhan Ozkan, MD, Chief of UW's IR Section, spoke about catheter-directed therapies for liver cancer; Rush University's Osmanuddin Ahmed, MD, discussed musculoskeletal interventions; Alexandra Fairchild, MD, from the Medical College of Wisconsin, spoke about peripheral arterial disease; and Mark Kleedehn, MD, of the UW, presented the latest in pediatric interventions and discussed the new IR training pathways.
The hands-on session featured interactive simulators and was sponsored by corporate partners Boston Scientific, Halyard Health, Cook Medical, Terumo Medical Corporation, Penumbra, and NeuWave Medical. The hands-on stations included: a gastrostomy tube exhibit where students learned how to deploy gastropexy T-fasteners in pig stomachs; an ablation station where students microwaved pig livers under ultrasound guidance; and two endovascular computer simulators where students catheterized and stented an atherosclerotic lesion under real-time fluoroscopic guidance.
The event was organized by Sean Golden, a fourth year medical student at UWSMPH pursuing interventional radiology, and Mark Kleedehn, MD, assistant professor in the UW Department of Radiology. Scott Reetz, a first year medical student, and Ryan Valk, a second year medical student, also contributed.