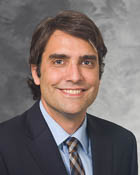 Congratulations are in order for UW Radiology's Diego Hernando, Ph.D., who has been selected to attend the 2011-2012 RSNA Advanced Course in Grant Writing.
This program, which is known to be both highly competitive and beneficial, is limited to 12 qualified participants who will join a select group of junior faculty at the RSNA Offices in Oak Brooke, Illinois. Over the course of the program, participants learn the fundamentals of good grant writing, understand the grant proposal process, and develop a grant application suitable for submission to a funding agency.
The course is divided into four sessions between October 2011 and May 2012.