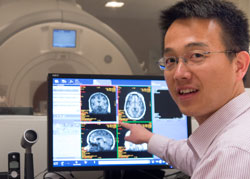 The Radiological Society of North America (RSNA) Research and Education Foundation has awarded a one-year, $40,000 Research Seed Grant to Homer Zeng, M.D., an honorary associate in Dr. Vivek Prabhakaran's Neuroimaging Research Lab . The grant is made possible by the generous support of GE Healthcare.
Drs. Zeng and Prabhakaran will collaborate to investigate "Language Reorganization and Functional and Structural Connectivity Patterns in Children with Benign Epilepsy with Centrotemporal Spikes (BECTS)." With a lack of consensus on treatment of BECTS, combined with the growing evidence for persistent language and other cognitive deficits well beyond adolescence, it is important to characterize the neurobiological mechanisms underlying BECTS. Dr. Zeng proposes to adopt an innovative multi-modal approach and combine functional and structural neuroimaging to elucidate the neural mechanisms underlying BECTS.
Congratulations Dr. Zeng! We look forward to more exciting news from this project.