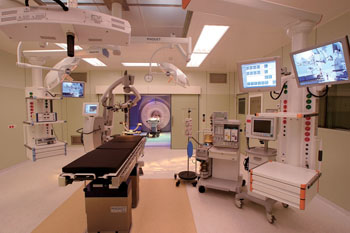 We are excited to announce the completion of the UW Hospital and Clinic's brand new intra-operative MRI (ioMRI) suite! This highly innovational new addition is a result of collaboration between the Department of Radiology, Department of Neurosurgery and UWHC, with hardware and software tools provided by GE Healthcare, Maquet, and MRI Interventions (formerly Surgivision).
In the ioMRI suite, surgeons will be able to perform deep brain stimulation (DBS) electrode placement for relief of symptoms of Parkinson's disease, essential tremor and other neurological conditions, and to help guide the resection of brain tumors, in a cheaper, faster and safer manner. Among the anticipated benefits are a 50 percent surgery time reduction, real-time problem intervention, more accurate procedures, increased patient comfort, and a reduction in the number of potential follow-up procedures. To date, two DBS electrode placement procedures have been performed with sub-millimeter targeting accuracy, guided by the advanced imaging capabilities of the 70cm widebore GE Optima 450w MRI system.
The special ribbon-cutting ceremony, held on February 28, was accompanied by presentations from our hospital CEO Donna Katen-Bahensky; Dr. Robert Dempsey, Chair of Neurosurgery; and Dr. Tom Grist, Chair of Radiology.