The Department of Radiology would like to congratulate the following individuals on their faculty promotions effective July 1, 2011: Dr. Donna Blankenbaker, Dr. Liz Sadowski, Dr. Lonie Salkowski and Dr. Charles Stepherson.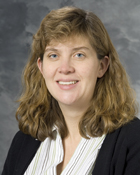 Dr. Elizabeth Sadowski – Promotion from Assistant Professor (CHS) to Associate Professor (CHS). Dr. Sadowski joined our department in 2001 as a fellow in Abdominal Imaging and decided to stay on as faculty in the AI division after her fellowship. Since 2001 she has had a successful career which includes being at the forefront of research on functional MRI of the transplanted kidney, as well as the safe use of MR contrast agents with her seminal publication on nephrogenic systemic fibrosis in patients with diminished renal function. Her work has helped generate millions of dollars of research funds to support the Renal Transplant Research Group, which includes her colleagues and mentors, Drs. Aji Djamali, Sean Fain and Tom Grist. Dr. Sadowski is also active clinically in the field of women's pelvic imaging and in mentoring young staff and residents in their careers. In addition to her accomplishments in academia, she has been a dedicated mother to four young boys, who along with her husband Scott, are a big part of her life. A special thanks goes out to Dr. Mark Kliewer, chairman of her mentoring committee, for all his support and guidance. Join us in congratulating Dr. Sadowski on her promotion to Associate Professor on the CHS track.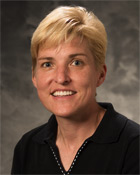 Dr. Lonie Salkowski – Promotion from Associate Professor (CHS) to Professor (CHS). Dr. Salkowski joined the department in August 2005 as an Associate Professor. She has an affiliate appointment as an Associate Professor in Anatomy and serves as the Medical Advisor for the UWHC School of Radiology Technology. Dr. Salkowski has gained a national reputation as a leader in radiology/anatomy education. She has collaborated with faculty in the United Kingdom to author the text book "Imaging Atlas of Human Anatomy 4th Edition" which is now translated into 5 foreign languages and an application for the iPad has been developed based on her work. She is a RSNA Education Scholar grant recipient and is now a graduate student in University of Wisconsin-Madison Education Leadership and Policy Analysis to attain her master's in education. Beginning on July 1, 2011, Dr. Salkowski was appointed Chief of the Breast Imaging Section.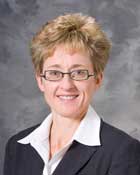 Dr. Donna G. Blankenbaker – Promotion from Associate Professor (CHS) to Professor (CHS). Dr. Blankenbaker completed her UW Musculoskeletal Fellowship in 2000. She joined the UW Musculoskeletal Section in 2002 and since that time has focused her career on hip imaging research and the latest sports medicine imaging techniques. Dr. Blankenbaker is recognized regionally, nationally and internationally as an expert in hip imaging. She continues her research in advanced hip imaging. She is also the Musculoskeletal Section Editor for the prestigious radiology journal: American Journal of Roentgenology (AJR). Dr. Blankenbaker is actively involved in education programs within the UW School of Medicine and Public Health as well nationally and internationally with the American Roentgen Ray Society, American College of Radiology, and International Skeletal Society. Dr. Blankenbaker credits her success to her mentors, Dr. Arthur De Smet and Dr. Mike Tuite who have provided ongoing support and guidance. Dr. Blankenbaker's other interests include adventure travel, photography, and cycling.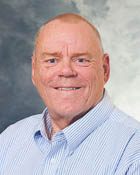 Dr. Charles Stepherson – Promoted from Associate Clinical Professor (Clinician-Teacher) to Clinical Professor (Clinician-Teacher). Dr. Stepherson joined the Department of Radiology in 2001 as a Clinical Assistant Professor. He was promoted to Clinical Associate Professor in 2007. He is the Vice Chair of the Community Division, with primary service to UWMF Managed Clinics, Meriter and outreach sites. The mission of the Community Division is to provide state-of-the-art medical imagining to Wisconsin communities. Dr. Stepherson is fellowship trained in nuclear medicine and boarded in both nuclear medicine and radiology. He is head of nuclear cardiology and PET/CT at Meriter Medical Imaging, and is the Radiology Safety Officer for Meriter Hospital, and has held these positions for 8 years. Dr. Stepherson currently practices at Meriter Hospital, 1 South Park Clinic, Associated Physicians, Fort HealthCare in Fort Atkinson, and Mile Bluff Medical Center in Mauston, WI. Dr. Stepherson's personal interests include carpentry, tractor repair and refurbishing, and raising English mastiffs.