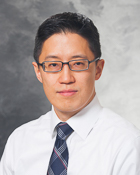 Associate Professor Kenneth Lee, M.D., demonstrated his power of prose at the 38th Annual Meeting of the Society of Skeletal Radiology (SSR), winning a Best Paper award.
Doctor Lee was the lead author on a paper investigating image-guided treatments for plantar fasciopathy, a chronic inflammation of tissue on the underside of the foot. The typical treatment for the condition is a corticosteroid injection, which can relieve pain for three to six months.
However, there is another option: an ultrasound-guided injection of platelet-rich-plasma (PRP). PRP stimulates the healing process by increasing inflammation response, in contrast to the anti-inflammatory effects of corticosteroids.
Doctor Lee demonstrated that over 32 weeks, an ultrasound-guided PRP injection caused a greater decrease in pain than a corticosteroid injection. The outcomes were determined using the Visual Analog Scale for pain, and changes in tissue thickness measured by ultrasound.
This study is an excellent example of interdepartmental collaboration, with contributing authors spread across four separate departments. They include Assistant Professor of Orthopedics John Wilson, M.D, M.S., Professor of Biomedical Engineering Ray Vanderbay Jr., Assistant Clinical Professor of Surgery Elizabeth Plovanich, M.D., and Department of Radiology Associate Instrumentation Specialist Sarah Kohn.
Doctor Lee, who currently serves on the finance committee for the SSR, will be presenting the paper at the 2015 meeting of the Radiological Society of North America (RSNA). Dr. Lee has a successful history with the SSR, winning the 2011 Patrick T. Liu Innovation in Research Award.