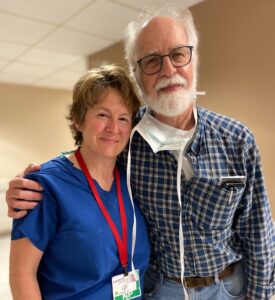 Luann Greiner, MS, APRN, who currently serves as a Nurse Manager in the Interventional Radiology section of the Department of Radiology, is celebrating her upcoming retirement. LuAnn has a long, storied career with nearly 34 years of service at UW Health, with 21 of those years in the Department of Radiology. In 1988, she was hired as a nurse by UW Health where she remained until 2001, when she was hired by Dr. John McDermott to the Department of Radiology as a Nurse Practitioner in the Division of Vascular and Interventional Radiology.  
Throughout LuAnn's career in the Department, she has been essential in several projects, including the implementation of an intra-arterial therapy Y90 radioembolization, which at the time of implementation in 2003, the University of Wisconsin was one of only 10 hospitals in the country to offer this novel form of treatment for primary and secondary liver cancers. LuAnn said, "The ongoing success of this program of care to this day speaks to the solid foundation established 19 years ago." 
She has helped many faculty members and staff onboard successfully. Dr. Prasad Dalvie said, "As a new faculty, LuAnn made my transition easy as she was someone I could lean on for any help with peri-procedural, clinical, and organizational questions." He continues, "LuAnn has been my go-to person in IR due to her knowledge, experience, and relationships with clinical services within the hospital and beyond. When I have a clinical problem, I often rope her in knowing she will follow through with a solution." 
Her amazing contributions to the Department led to her being awarded the Advanced Practice Provider Award in 2015.  
She will most certainly be missed in the Department. Dr. Michael Brunner said, "I think what I will miss most once she retires is her precise, collaborative approach to IR care where she partnered with providers, patients, and caregivers, and her willingness to assist others in these efforts wherever possible." 
Congratulations to LuAnn on her retirement!