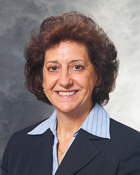 Few UW Radiology members have left their mark on the department like Margaret Birrenkott, MBA. From her start as an Administrative Assistant in the mid-1970s to her current role as Department Administrator, Birrenkott has demonstrated excellence in a variety of arenas. She has now been selected as the recipient of the 2016 Wisconsin Alumni Association Award for Excellence in Leadership, and will be honored at two separate ceremonies in April and May.
"I believe Ms. Birrenkott is often the unsung hero; she has survived and trained four department chairs, and has been serving as a departmental leader on behalf of these chairs since 1988," said current Department Chair Thomas Grist, M.D. "She has not only served our department well, but now serves as a role model for other department administrators."
During her time at UW, Birrenkott has spearheaded projects such as the creation of the Community Radiology division and guided the department through transitions including the recent merger between UW Health and the University of Wisconsin Medical Foundation. In the face of a rapidly changing healthcare landscape, she has remained committed to the tri-part departmental mission of clinical care, groundbreaking research, and medical education.
As she enters her 41st year with the department she continues to lead with conviction and purpose; overseeing an annual budget of nearly $100M and administratively supporting over 200 physicians as well as academic and support staff. Birrenkott has a unique insight into departmental operations because she's served in nearly all administrative areas, including finance and clinical coding. Her attention to detail allows the department to consistently produce top-notch radiologists and technical innovations, and to further the careers of our faculty, residents, and fellows.
While this award is an all-campus award, Birrenkott is no stranger to this level of recognition, having received the Lifetime Achievement Award from the Association of Administrators in Academic Radiology Departments in 2014.
Birrenkott will be presented the award during a ceremony at the Fluno Center on April 26, and all Alumni Association Award recipients will be formally recognized at the Academic Staff Assembly meeting at Bascom Hall on May 9.
Read more about Margaret Birrenkott and other awardees at news.wisc.edu