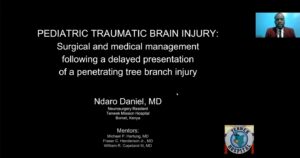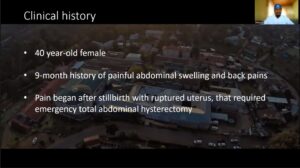 Images (above): Dr. Daniel (on the left) and Dr. Moenga (on the right) presenting their cases to the Penn Radiology Global Health Imaging Case Competition.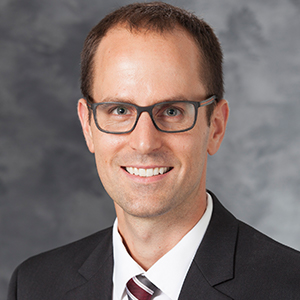 Mentorship is an integral part of our clinical, research, and education efforts in the University of Wisconsin-Madison Department of Radiology. Michael Hartung, MD is a shining example of the power of mentorship – but his recent efforts take mentorship to a new level. 
Each year, Penn Medicine hosts the Penn Radiology Global Health Imaging Case Competition, which is "designed for medical trainees in low- and middle-income countries to present cases unique to their region." Dr. Hartung worked with faculty physicians from Tenwek in general surgery (Dr. Elizabeth Mwachiro) and neurosurgery (Drs. Fraser Henderson and William Copeland) to mentor three Kenyan surgical residents from the Tenwek Hospital to prepare and submit cases to the competition. Dr. Hartung said, "Two of their submissions were accepted for presentation at the event, and both received awards!" 
Dr. Ndaro Daniel (PGY1, neurosurgery) was awarded second place for his presentation. "Pediatric traumatic brain injury: surgical and medical management of a penetrating tree branch injury." Dr. Daniel Moenga (PGY-5, general surgery) was awarded the "People's Choice Award" for his presentation, "An unexpected cause of abdominal and back pain: three large gossypibomas related to remote surgery." The awards include a cash prize for the trainees and an invitation to publish their cases in Applied Radiology. 
Dr. Hartung said, "Mentoring these residents for this event has been an unexpected highlight of my academic year. I am thrilled to see these trainees, their faculty, and Tenwek recognized for their excellent work. I used a combination of email, WhatsApp, and Zoom to connect with trainees in Kenya. This allowed me to efficiently exchange ideas and collaborate to create the abstract, PowerPoint, and final recorded presentation." He continued, "Each step in the process allowed for opportunities to mentor in the creation of scholarly materials, refine ideas, and spur on each other's creativity. I learned a lot about the unique challenges they encounter when trying to provide the best patient care in a resource-constrained environment. I am very thankful for this platform to celebrate the imaging work done across the globe." 
Vice Chair of Equity, Anand Narayan, MD, PhD added, "Dr. Hartung's commitment to global mentorship will help foster a robust learning culture where we will continuously share and receive knowledge from partners across the globe." 
Thank you for your efforts, Dr. Hartung, and congratulations to Drs. Daniel and Moenga!