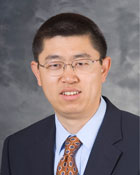 The Molecular Imaging and Nanotechnology Lab, led by Department of Radiology Assistant Professor, Dr. Weibo Cai, was recently awarded a 1-year, $154K grant from the Elsa U. Pardee Foundation for the proposal entitled, "Novel Combination Therapy for Prostate Cancer."
The proposed research aims to develop and optimize new, highly efficacious therapies for prostate cancer and to develop positron emission tomography tracers for imaging the progression and response to targeted prostate cancer therapies. The major goal of this 1-year grant is to gather sufficient preliminary data for an R01 submission.
The Elsa U. Pardee Foundation was established in 1944 under the terms of the will of Mrs. Elsa U. Pardee, whose life was taken by cancer on October 2, 1944. Since then, this family-run foundation has given over $113 million in grants to support research programs directed toward discovering new approaches for cancer treatment and cure, as well as providing financial support for cancer treatment.