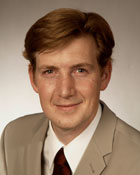 A team of researchers from the University of Wisconsin School of Medicine and Public Health (UWSMPH) has been awarded a 4-year $4 million grant from the National Institutes of Health (NIH) to develop imaging techniques to identify early-stage pregnancy complications. Led by Professor Dinesh Shah, M.D, of the Department of Obstetrics and Gynecology, and Associate Professor Oliver Wieben, Ph.D., of the Departments of Radiology, Medical Physics, and Biomedical Engineering, the team aims to measure placental blood flow to support oxygen mapping, among other metrics.
The placenta is a critical but poorly understood organ. It supplies blood, oxygen, and nutrients to the fetus, and produces hormones that regulate the mother's immune system. Many problems associated with pregnancy, including preterm birth and preeclampsia, can occur because of problems with the placenta.
This research is part of the Human Placenta Project (external link), an initiative to "revolutionize the understanding of the placenta," according to the National Institute of Child Health and Human Development. The NIH has announced $46 million in research awards that will fund technology to monitor and assess placental function throughout the pregnancy, with the goal of improving pregnancy outcomes.
"Previous studies have focused largely on the placenta after delivery, but in order to understand it fully we need to be able to study it while it's doing its job," said Shah. "Modern imaging makes it possible to study it from outside of the body. Too often damage has already begun by the time a mother with a problematic pregnancy appears in clinic, limiting the health care providers' ability to correct the course of her pregnancy."
The Departments of Medical Physics and Radiology are represented by the MRI Research Group, who will work to develop new imaging techniques. The group investigates the usage of 4D Flow MRI to monitor for reduced placental blood flow, which is a common indicator of pregnancy complications. Furthermore, the group will use an iron-based contrast agent to generate real-time 3D MRI maps of white blood cells, the first time such a measurement will be performed in vivo. Mapping of placental perfusion and oxygenation will also be conducted with noninvasive MRI.
The medical physics team includes Dr. Wieben (co-PI), Sean Fain, Ph.D., and Kevin Johnson, Ph.D.; and the radiology team includes Christopher François, M.D., Diego Hernando, Ph.D., Scott Reeder, M.D., Ph.D., and
Alejandro Roldán-Alzate, Ph.D..