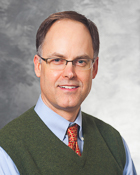 Scott Nagle, M.D., Ph.D., Assistant Professor in Radiology and Medical Physics, has been named Co-Director of the Center for Diagnostic Imaging of the Cystic Fibrosis Foundation's Therapeutic Development Network.
The Cystic Fibrosis Foundation is a nonprofit donor-supported organization dedicated to the search for a cure for cystic fibrosis, an inherited chronic disease that affects the lungs of approximately 30,000 children and adults in the US and 70,000 worldwide. In the 1950s, few children with cystic fibrosis lived to attend elementary school. Today, due to advances in research and medical treatments, many people with the disease can now expect to live into their 30s, 40s, and beyond.
In his new role, Dr. Nagle will provide leadership and advice to the Cystic Fibrosis Foundation regarding the use of imaging in cystic fibrosis research studies. In particular, he will be focused on coordinating the application of MRI to drug therapy trials, assessing treatment response, and predicting outcome in the treatment of cystic fibrosis.