On April 4th, Andrew Ross, MD and Christina Hendricks, the Ultrasonographer Lead, visited Blackhawk Technical College in Janesville, Wisconsin to bring musculoskeletal ultrasound education to a group of student sonographers. 
The workshop was a mix of didactic lectures and hands-on learning led by Dr. Ross and Hendricks, respectively. Topics covered included ultrasound of the shoulder, foot/ankle, and hand/wrist.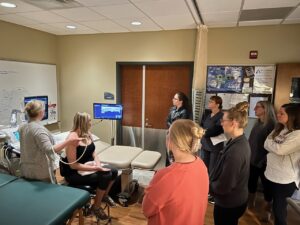 "Dr. Ross and Christina are an amazing team who can bring MSK to the classroom and walk students through the anatomy, physiology, and scanning planes in an easy-to-understand format," says Michele Spates, the director of the Diagnostic Medical Sonography Program at Blackhawk Technical College. "We are so blessed to have them in our classroom." 
It's the second year that the duo has led the event. Hendricks' goal is to both educate students and encourage an enthusiasm for continued learning. 
"My hope is that this brief introduction to MSK ultrasound instills a career-long passion for learning and growing as the modality of ultrasound changes, even beyond MSK ultrasound," she says. 
Many of the students expressed how much they enjoyed the experience. By pairing thorough presentations with hands-on exercises, Dr. Ross and Hendricks helped students feel more confident about learning new scanning protocols. 
"The outreach day was a great opportunity to share knowledge with the next generation of sonographers," says Dr. Ross. "This event underscores the Department's longstanding commitment to promoting education in the health sciences and fostering collaborative relationships within the community."