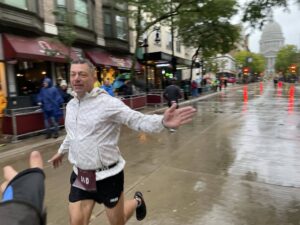 Paul Ramirez, a Software Engineer on the RadWeb Team, recently placed first at the Running Bear Triathlon in Three Lakes, Wisconsin on August 14. The triathlon allows participants to explore the Northwoods of Wisconsin through a 0.2K swim, 15K bike ride, and 5K run. The event is sponsored by The Ed and Gwen Hutchins Family Foundation, and proceeds go to local charitable organizations. 
Paul then set his eyes on the Madison Ironman on September 11. The race consists of a 2.4-mile swim in Lake Monona, a 112-mile bike course around the Madison area, and a 26.2-mile marathon route through downtown Madison. Paul finished 348th out of 1,020 finishers with a time of 13 hours and 43 minutes. He didn't even let his bike breaking down stop him – he just ran the 3 remaining miles with his bike in hand before the marathon-length run even started.
Paul said that he couldn't have done it without the Department of Radiology, who helped him return to top condition for the races. "I had an abscess two months ago that UW Radiology IR group removed using a drain," Ramirez said. 
The 2022 Ironman marks Paul's fifth completed Ironman! 
Congratulations, Paul!