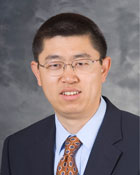 Professor Weibo Cai was invited to serve on the Interfaces Review Committee for the Cancer Prevention and Research Institute of Texas (CPRIT). This is a truly an exceptional honor for an Assistant Professor.
CPRIT, established by the State of Texas in 2009, is planning to issue $3 billion in general obligation bonds over 10 years to fund grants for cancer research and prevention in Texas. The grants that were reviewed by the Interfaces Review Committee include R21/R01-type grants, Shared Instrumentation Awards, Multi-Investigator Research Awards, along with many other funding mechanisms. The total budget of the individual grants reviewed by this committee ranges from $200K to more than $20M.
Congrats Professor Cai!