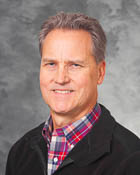 Associate Professor Mark Schiebler, M.D., received the 2014 Extra Mile Award from the UW Department of Medicine (DOM), the only UW faculty member from outside of the DOM to receive an award at their 2014 faculty dinner and awards ceremony.
The Extra Mile Award is given on an irregular basis, and the last UW Radiology member to earn the Extra Mile Award was Emeritus Professor Donald R. Yandow , M.D., placing Dr. Schiebler in esteemed company.
Dr. Schiebler pointed to his didactic course on pulmonary medicine as a strong reason for winning the award, as well as his contributions to DOM colleagues in the reading room.