Physician burnout is a real problem. According to the Agency for Healthcare Research and Quality (AHRQ), burnout can cause physicians to leave the field and has the potential to negatively impact quality of patient care when physicians suffer from impaired attention, memory, or executive function (AHRQ). Burnout is caused by a multitude of problems, including time pressures, chaotic environments, low control of work pace, electronic health records, and family responsibilities (AHRQ).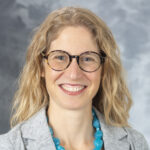 While burnout may seem inevitable, healthcare organizations can implement solutions and wellness initiatives to help combat it. Associate Professor and Vice Chair of Faculty Development and Enrichment Jessica Robbins, MD talked about some steps that the Department of Radiology has taken to reduce burnout. One thing the Department does is provide opportunities for physicians to learn new skills beyond radiology. The Department offers presentations, Grand Rounds Speakers, and small group workshops centered around a new theme each academic year. This year's theme is identifying and mitigating the effects of implicit bias.
The pandemic is exacerbating burnout as physicians become overwhelmed caring for COVID-19 patients. Longer shifts, inadequate access to PPE, and the fear of bringing COVID-19 back to friends and family are just a few ways that the pandemic has accelerated physician burnout. These challenges make it difficult to implement new wellness initiatives. "There are so many extraordinary demands on employees that are amplified and augmented by the pandemic," says Dr. Robbins.
Despite the difficulty, the Department of Radiology, and UW as a whole, have implemented resources to help employees cope with mental well-being. In the spring, the Department of Psychiatry held group counseling sessions for employees that needed extra support dealing with the new demands. UW also instituted a peer support program within each department.
Another wellness initiative comes in the form of Grand Rounds Speaker and UW-Madison Clinical Professor Christine Whelan, PhD. Dr. Whelan's talk, "Do the Next Right Thing: Purpose in Times of Uncertainty", will be held at noon on December 17th via WebEx. Her presentation will focus on embracing a purpose mindset in times of uncertainty and will include research on preventive health and well-being. She will also offer tips for re-energizing purpose in people's everyday lives. "My hope is that folks will leave my presentation energized and willing to try a few of these deceptively simple, yet research-backed and psychologically powerful, exercises themselves in the coming months," says Dr. Whelan.
While wellness initiatives can provide some relief, the pandemic has exacerbated the existing problem of burnout. It is important to remain empathetic, as everyone is faced with different obstacles. "There are unique demands for everyone, and everyone is stressed in different ways," says Dr. Robbins. "There is no one-size-fits-all approach to well-being".
UW employees can click on these links to access resources from the Employee Assistance Office and UHS