Fatty liver disease, or hepatic steatosis, is the most common cause of chronic liver disease worldwide. Accurate and reliable biomarker measurement is a critical part of diagnosis, risk stratification, prognostication, and therapy monitoring. UW-Radiology and the Department of Medical Physics are part of ongoing efforts to evaluate Pulse-Echo Quantitative Ultrasound (PEQUS), a non-invasive technique that could improve the accuracy and precision of imaging-based diagnosis of non-alcoholic fatty liver disease. 
Since the 1980s, the Department of Medical Physics has pioneered the development of PEQUS techniques for non-invasive biomarker measurement. The tradition of innovation continues today, with the work of Ivan Rosado-Mendez, PhD, Lori Mankowski Gettle, MD, MBA, and the members of the Quantitative Ultrasound Lab in the PEQUS Biomarker Committee, an initiative jointly supported by the American Institute of Ultrasound in Medicine and the Quantitative Imaging Biomarkers Alliance (QIBA).
This initiative, co-chaired by Dr. Rosado-Mendez, Anthony Samir, MD (Massachusetts General Hospital), and Michael Wang, PhD (GE Healthcare), aims to evaluate the technical performance of these new biomarkers and produce guidelines for their implementation.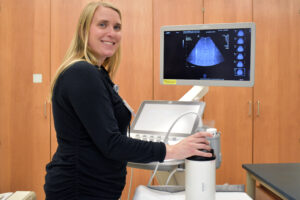 "Biomarker development is a team effort that must include the perspectives of different stakeholders, from healthcare to industry to academia," says Dr. Rosado-Mendez. "Within the PEQUS biomarker committee, we follow this premise to ensure successful clinical translation of the biomarkers we are working on." 
International collaboration is a crucial part of this process. A set of calibrated tissue-mimicking phantoms will be circulated among 32 academic, medical, and regulatory institutions around the world for technical testing. Tissue-mimicking phantoms are imaging specimens which emulate important properties of biological tissue.  
The team at UW-Madison – which includes Dr. Mankowski Gettle, Dr. Rosado-Mendez, Kelsey Small (Ultrasonographer Lead), Amber Possell (Research Program Coordinator) and members of the Quantitative Ultrasound Laboratory – have been characterizing the acoustic properties of the phantoms and testing the inter- and intra-operator variability of these biomarkers, with support from GE and Siemens.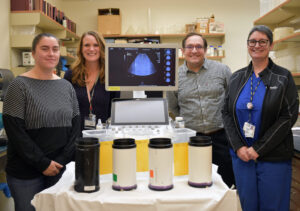 The project will span 18 months and ultimately will provide radiologists with important information about how to incorporate these emerging technologies into their practice. 
To learn more about the PEQUS initiative, read this recent publication in Radiology, which Dr. Rosado-Mendez co-authored.