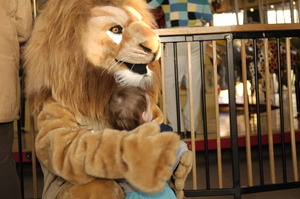 Radiology RockStars, Radiology's Employee Appreciation Committee, raised over $500 in their clothing sale to benefit Henry Vilas Zoo and American Family Children's Hospital.
A portion of that raised will help Radiology adopt 2 animals at the Henry Villas Zoo. Donations of this nature help keep the zoo free for everyone to enjoy, help improve animal habitats and enrichment programs, as well as promote education and conservation efforts. UW Health Radiology will help adopt Henry the Lion and Pinky Potter the otter.
The other portion of the fundraiser was donated to American Family Children's Hospital. This contribution will help provide services such as family meals served at no charge so parents and families do not need to leave their child at meal time, car safety seats to families who otherwise could not afford one, or wigs and makeovers to children with scars or who have lost their hair through treatment.
The Department of Radiology would like to thank everyone who purchased items and donated to both of these great causes.