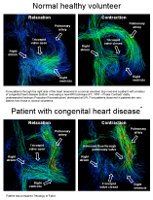 What does the racing heart of someone in love – or on a fast treadmill – really look like?
Researchers at the University of Wisconsin School of Medicine and Public Health (SMPH) now have pictures that are better than anything that's come before. With the new technology they've developed, the scientists produce remarkable images to measure how fast blood is flowing through various places in the heart and the major arteries around it.
Physicians given a preview are wowed by what they see, according to Dr. Oliver Wieben, a School of Medicine and Public Health medical physicist who has been working on the technology for several years, and Dr. Christopher Francois, a radiologist at the medical school who specializes in heart imaging.
Read the full story at med.wisc.edu