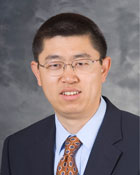 Recent work from the Molecular Imaging and Nanotechnology Laboratory (http://mi.wisc.edu) lead by UW Radiology's Dr. Weibo Cai was highlighted in the October Issue of Radiology Today Magazine (http://www.radiologytoday.net/archive/rt1011p37.shtml).
The article, entitled "Targeting Angiogenesis," highlighted two recent publications in clinical and preclinical imaging of tumor angiogenesis researched by Dr. Cai. The first report was about clinical positron emission tomography (PET) imaging of integrin αvβ3 expression with an 18F-labeled RGD peptide. Dr. Cai was heavily involved in the preclinical development of this work when he was a post-doctoral scholar at Stanford University. The second report in the article spotlights Prof. Cai's independent work at the UW-Madison which focuses on the use of a 64Cu-labeled monoclonal antibody for PET imaging of CD105 expression.
Additionally, this work was recently published in the European Journal of Nuclear Medicine and Molecular Imaging (http://www.ncbi.nlm.nih.gov/pubmed/21373764). The abstract for this work was selected for a travel award at the 2010 World Molecular Imaging Congress in Kyoto, and for news release at the 2011 Society of Nuclear Medicine Annual Meeting.