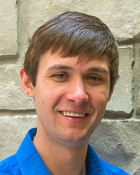 Resident Dustin Pooler, M.D., presented a lecture entitled "Missed Colorectal Polyps at Optical Colonoscopy Despite Prospectively Known Positive CT Colonography Findings" as part of Resident Research Day 2014.
The purpose of Pooler's study was to determine how many discordant polyps, assumed to be CT colonography (CTC) false positives, actually prove to be optical colonoscopy (OC) false negatives on subsequent examination (either OC or CTC).
9,336 patients were reviewed, totaling nearly 11,000 CTC examinations in a 113-month period. Among those patients, 2,606 polyps with a diameter of greater than 6 mm were recorded. Of those polyps, 78 met the criteria for a possible OC false negative with a follow up. After compiling data, Pooler found that 40% of the 78 were OC false negatives, while 60% were CTC false positives.
Pooler concluded that OC false negative polyps were more likely to be in the right colon than concordant polyps, and of the 26 OC false negative polyps, six turned out to be advanced lesions. These OC false negatives are more likely to be larger in size, non-flat, and called with high diagnostic confidence compared to CTC false positives.