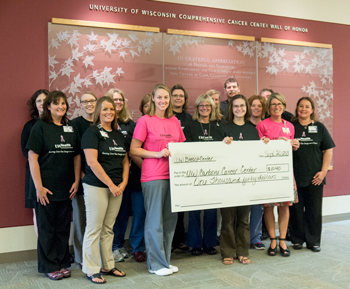 The Department of Radiology would like to congratulate the UW Health Breast Center on their successful t-shirt sale used to raise awareness for breast cancer and benefit the UW Carbone Cancer Center. This includes a special thanks to coordinators Angela Sendelbach, Jessica Harried, Tamela Jorgensen, and Trisha Hardy.
According to Jessica Harried of Breast Imaging, the group raised $1,027 and sold 246 t-shirts to staff throughout UW Health to support the Carbone Cancer Patient Amenities Fund. This fund is used to supply food and beverages in the patient waiting areas, as well as gas gift cards and hotel stays for patients in need.
Radiology staff are allowed to wear them every Friday in October to honor Breast Cancer Awareness Month. With the chance of a woman getting breast cancer at 1 in 8 and over 2.9 million breast cancer survivors in the United States, according to cancer.org, the Department of Radiology has been enthusiastic to support this important cause.