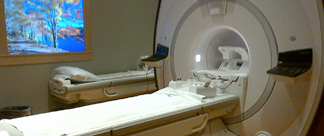 by Francis J. Thornton, M.D., FRCS
UW Radiology is once again leading the way with the newest MRI technology. Its patient friendly, wide-bore, GE Optima MR450w MRI scanner, at 1 South Park Street was recently upgraded to the latest GE Geometry Embracing Method (GEM) coil suite. It is one of the first two imaging centers in the US to make this advance. The GEM suite combines improved design with innovative software technologies to provide uncompromised image quality, improved workflow, and to minimal patient anxiety and motion.
The GEM suite helps maximize patient comfort through ergonomic coil design with flexible lightweight coil material, padding and comfort tilt positioning and soothing LED accent lights. The Comfort Tilt Head/Neck coil allows us to comfortably scan patients with painful neck stiffness. UW Health Optima MR450w with GEM coil suite is wide bore MRI imaging done right.