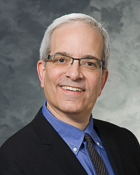 Dr. Michael Brunner has recently joined the Department of Radiology as an Interventional Radiologist. He will be devoting 20% of his time to our department with 80% of his time devoted to his main appointment as Chief of the Radiology Department at the William S. Middleton Memorial VA Hospital. Dr. Brunner joins us with a rather cosmopolitan background, having trained as a general and vascular surgeon prior to further training as a diagnostic and interventional radiologist. He has practiced in both academic and private practice settings, served as the president of the Society of Interventional Radiology (SIR) (he still leads their Data Assessment Workgroup for comparative effectiveness research), chaired the board of the World Conference on Interventional Oncology (WCIO), and currently chairs the Radiology Section Council at the AMA.
He is a member of the SIR Foundation clinical research trial committee and a member of a national Stakeholders Committee on Patient-centered Outcomes for durable treatment of fibroids. Dr. Brunner has been a Chicago Magazine/Castle Connolly Top Doctor for several years running.
Please welcome Dr. Brunner to the department!