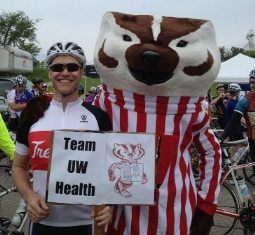 For the fourth straight year, staff and faculty from various departments within the UW Health system will be participating in the Trek-100, a 100 mile cycling race with the mission of raising money to fight childhood cancer.
Team UW Health will be co-captained by Bradley Maxfield, M.D., Associate Professor and Chief of Pediatric Imaging. The 2013 UW Health team was the largest yet, with over 60 cyclists raising more than $20,000, according to Maxfield.
For 2014, Team UW Health is opening up registration to patients and their families from American Family Children's Hospital, and hopes to surpass the previous year's numbers, said Maxfield. While the 100-mile race is the signature event, shorter, more family friendly distances are available, including 62-mile, 36-mile, and 19-mile routes.
Held in Waterloo, WI, the Trek-100 is a collaboration between Trek Bicycle and the Midwest Athletes Against Childhood Cancer Fund (MAACC Fund). Since its inception in 1976, the MAACC fund has contributed over $48 million dollars to childhood cancer research.
Some of that money has been channeled into the UW Health system, said Maxfield, with large sustaining grants for the Carbone Cancer Center and funding for six full laboratory spaces in the Wisconsin Institutes for Medical Research.
The race will be held on June 7th, while registration closes after June 1st. Interested parties can register and join Team UW Health online.