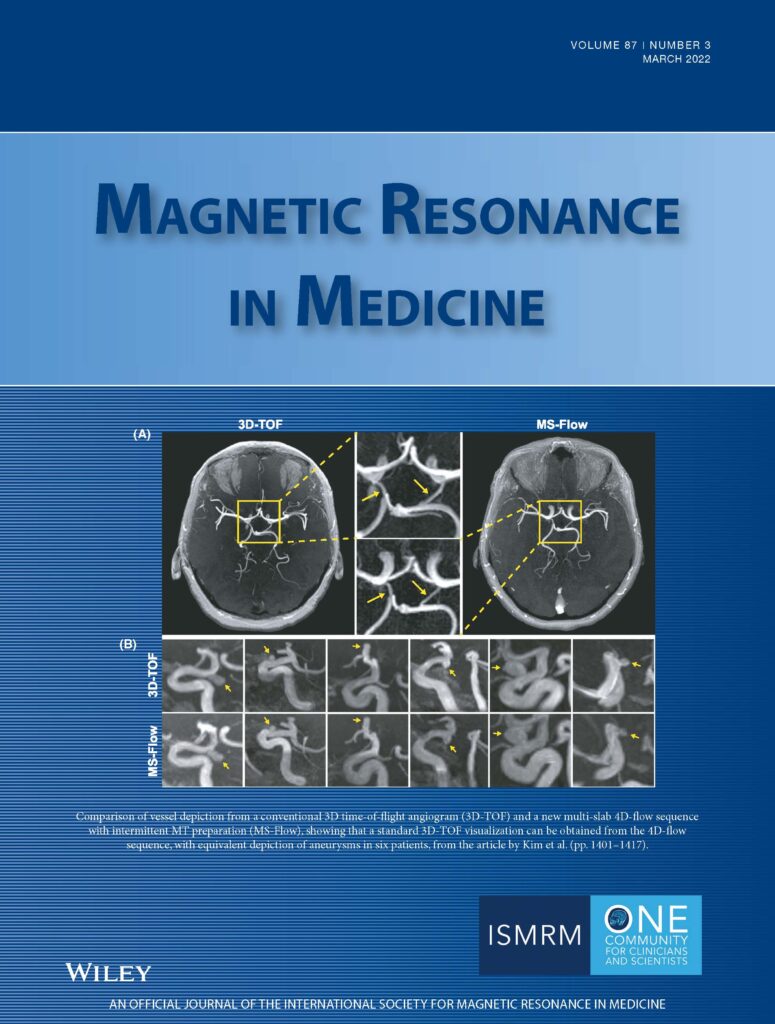 Dahan Kim, PhD, Laura Eisenmenger, MD, Patrick Turski, MD, FACR, and Kevin Johnson, PhD had their research publication, "Simultaneous 3D-TOF angiography and 4D-flow MRI with enhanced flow signal using multiple overlapping thin slab acquisition and magnetization transfer," featured on the front cover of the March 2022 edition of Magnetic Resonance in Medicine. Dr. Kim is a Postdoctoral Research Assistant in the Department of Medical Physics mentored by Dr. Eisenmenger and Dr. Johnson on this project. 
This work comes from the UW MRI Flow Research Group under the direction of Oliver Wieben, PhD and Kevin Johnson, PhD. Dr. Turski says, "It is great to see the UW MRI Flow group get the recognition they truly deserve. One has to see the color flow images and movies to really appreciate the clinical value of this technology." This publication will accelerate the introduction of MRI flow imaging into the everyday practice of neuroradiology.  
Magnetic Resonance in Medicine is a monthly international peer-reviewed medical journal covering research on "all aspects of the development and use of nuclear magnetic resonance and electron paramagnetic resonance techniques for medical applications." The UW MRI Flow Research Group was also published in Magnetic Resonance in Medicine in December of 2021 with their article, "Virtual injections using 4D flow MRI with displacement corrections and constrained probabilistic streamlines." Congratulations to the team on their excellent work!