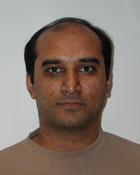 Congratulations to Department of Radiology researcher Krishna Kurpad, PhD and Michael Repplinger, MD of the Department of Medicine for each being awarded highly coveted pilot grants involving imaging from the UW Institute for Clinical and Translational Research (ICTR).
Kurpad, a researcher in the Imaging Sciences Section and staff member in the MRI research group, was awarded $50,000 for his proposal, "MR spectroscopic imaging system for stroke assessment." Reviews of his proposal noted its high level of innovation, outstanding thought process, and future potential. His mentor for the project is UW Radiology's Sean Fain and co-investigators include Drs. Howard Rowley (Radiology), Josh Medow (Neurosurgery), and Peter Ferrazzano (Pediatrics).
Dr. Repplinger from the UWSMPH Department of Medicine was also awarded $50,000 for his proposal, "Comparison of CE-MRI with Ce-CT for the detection of acute appendicitis." Reviewers of his proposal mentioned its novelty, excellent resources, and promise for pediatric patients. His mentor for the project is Dr. Scott Reeder, Chief of MRI at UW, and he worked with UW Radiology's Drs. Perry Pickhardt, Bradley Maxfield, and Frederick Kelcz.
Further distinguishing both doctors, these projects accounted for two of only 12 pilot grants generously supported by the Carbone Cancer Center, Wisconsin National Primate Center, Stem Cell and Regenerative Medicine Center, and the Coalition for Brain Injury Research.