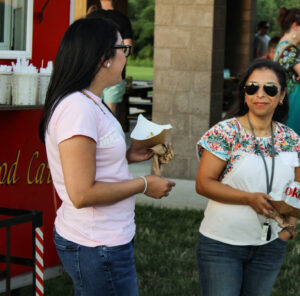 The academic year has just begun, but we've already kicked off our Grand Rounds series for the year with a visit from Amy Patel, MD, Assistant Professor of Radiology at the University of Missouri-Kansas City School of Medicine and Medical Director of The Breast Care Center at Liberty Hospital. Dr. Patel was hosted by Dr. Anand Narayan, MD, PhD on July 22nd and gave two talks to the Department of Radiology. 
Residents were treated to a special morning conference by Dr. Patel on "Professional Success in Social Media". Dr. Patel serves as the President-Elect and Co-Chair of the Communications Committee for the American Association for Women in Radiology as well as a member of the social media committee for the Society of Breast Imaging. Patel, whose Twitter profile has nearly 10,000 followers, guided trainees through her journey of using social media to maximize the impact of her work. She also gave a Grand Rounds to the Department titled, "Breast Imaging Advocacy and Legislation: How Radiologists can Make an Impact." Breast Imaging and Intervention faculty Dr. Elezaby said that Dr. Patel's Grand Rounds was "very well received by our residents and fellows and clarified several pathways and opportunities for them if they want to be involved in patient advocacy. It also highlighted the potential impact and benefits for patients when radiologists are taking an active role in shaping the local and federal legislations." 
Dr. Patel was also invited as a featured guest for the Department of Radiology's Welcome Picnic for new residents and fellows. The event gave trainees an additional opportunity to meet and discuss advocacy with Dr. Patel, who serves as the Chair of the ACR Radiology Advocacy Network by the American College of Radiology® (ACR®).  
Thank you to Dr. Patel for an incredible visit!