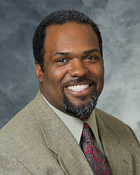 The UW Department of Radiology is happy to extend a warm welcome to our newest faculty member, Dr. Jason W. Stephenson. Dr. Stephenson joined the department in August as an assistant professor in the Musculoskeletal Imaging Section, and is already making his presence known by becoming a co-director of the Radiology Clerkship along with Drs. Donna Blankenbaker and J. Louis Hinshaw. He has a deep-seeded love for teaching, which will make him a great asset to the Radiology Clerkship team.
Dr. Stephenson completed his undergraduate work at Stanford University. Directly out of college, Dr. Stephenson took a job at his high school alma mater, teaching biology and chemistry. After three years of teaching, he turned his attention back to a career in medicine. Dr. Stephenson completed his medical school, radiology residency, and fellowship at Washington University School of Medicine in St. Louis. His love and natural ability for teaching landed him an appointment at the University of University of Pennsylvania as an assistant professor in radiology, before joining the UW.
Dr. Stephenson's clinical interests include soft tissue and bone biopsy, spine and joint injection, vertebroplasty, small-part musculoskeletal MRI, imaging of acquired foot alignment abnormalities, and, of course, radiology resident and medical student education. He is board–certified in diagnostic radiology, and a member of the Radiological Society of North America, American Society of Emergency Radiologists, American Roentgen Ray Society, and the Association of University Radiologists.
Welcome to the Department Dr. Stephenson!