A team led by primary investigator Guang-Hong Chen, Ph.D., has received a Quantum Grant from the National Institute of Biomedical Imaging and Bioengineering (NIBIB). The $3M grant was awarded for a project that will drastically reduce the treatment time for ischemic stroke victims by combining the diagnostic and therapeutic phases of treatment. According to Department Chair Thomas Grist, M.D., FACR, "This is a wonderful interdisciplinary effort that will have a big impact on the treatment of stroke."
With the current clinical workflow (see accompanying image), ischemic stroke victims can lose up to two hours in transportation and waiting time once they've arrived at the hospital. Diagnostic imaging must occur in either CT or MRI suites, while treatment is carried out via angiography. However, techniques recently developed by UW-Madison researchers may allow for "one-stop-shop imaging," placing the entire treatment process in the angiography suite.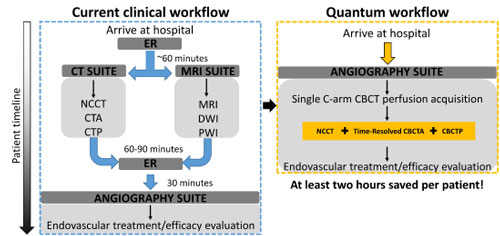 Charles Strother, Ph.D.Beverly Aagaard Kienitz, M.D.Ke Li, Ph.D.Howard Rowley, M.D.Patrick Turski, M.D., FACRVivek Prabhakaran, M.D., Ph.D.