Paul M. Harari, M.D., professor and chairman of the Department of Human Oncology at the University of Wisconsin School of Medicine and Public Health, urged collaboration between oncologists and radiologists to fuel valuable research. Imaging has spurred remarkable advances in cancer treatment and will continue to play an integral role as treatment becomes more personalized and moves to the molecular level, according to Harari, who delivered the Annual Oration in Radiation Oncology Wednesday at the Arie Crown Theater.
After recalling the days when external anatomy and plain X-rays served as the primary guide for radiation therapy and collateral normal tissue damage was a necessary accompaniment of treatment, Harari described the "dramatic, seismic changes" that have taken place in the field.
"Radiation delivery has become increasingly precise, enabling us to reduce treatment margins on tumors," he said. "Now we can shape radiation dose to the exact three-dimensional shape of each tumor and gate dose delivery to account for motion from breathing."
The revolution in imaging and treatment technology has fostered meaningful gains for patients, Dr. Harari said. While dose traditionally has been limited by normal organ tolerance, modern technology can now provide very sharp dose gradients between tumor and critical normal tissues. The complementary use of CT, MR and PET imaging routinely facilitates improvements in tumor staging, treatment recommendations and outcomes.
"We rely more on imaging in the field of radiation oncology than ever before," Dr. Harari said during his presentation, "Beneficial Liaisons: Imaging and Therapy."
Dr. Harari, a former RSNA Research & Education (R&E) Grant Scholar, highlighted technological advances like intensity modulated radiation therapy (IMRT) and image-guided radiation therapy (IGRT) that are now routinely available and contribute to high tumor control rates and improved quality of life for patients. He cited examples from his head and neck cancer specialty to demonstrate how precise treatment delivery has helped to preserve important structures that were commonly damaged or destroyed with older methods.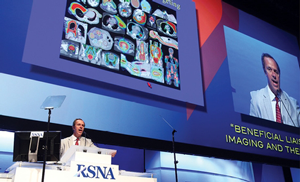 "For example, now we are able to spare major salivary glands and diminish radiation dose to the spinal cord, jawbone and voice box," he said.
The recent advances only scratch the surface of possibility, according to Dr. Harari, who pointed to molecular imaging and biology as exciting areas of active development.
"The blossoming of molecular biology over the last several decades is now providing opportunities to tailor drug and radiation treatment approaches more specifically for individual patients," he said. "Through the blending of modern imaging with molecular drugs and precision radiation, we are poised to further improve cure rates and diminish side effects."
Along with molecular biology, Dr. Harari expects dramatically improved visualization to have a beneficial impact on treatment by lowering the threshold of cancer detection and enabling the tracking of individual tumor cells.
"Through the unprecedented increased visualization of tumors with modern imaging, we are unmasking tumor characteristics previously unknown to us, including micro-extensions of tumors and even small metastases in other parts of the body," he said.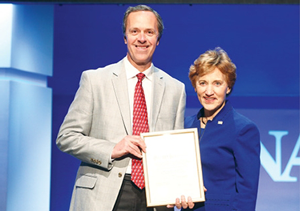 Dr. Harari also touted the promise of diapeutic (diagnostic + therapeutic) agents that simultaneously image and treat cancer, and tumor biology imaging, a new discipline that can characterize individual tumors in terms of proliferation, metabolism and other variables to help shape more personalized and effective future therapies.
Annual Oration in Radiation Oncology: Beneficial Liaisons: Imaging and Therapy Together, all these advances are helping to move imaging beyond the "see the tumor, treat the tumor" model of the past, said Dr. Harari, increasing the value of cooperation among surgeons, radiation oncologists and interventional radiologists.
"Strengthening the bond of interaction between diagnostic and therapeutic practitioners in oncology has never been more vital and gratifying," he said.
This year's oration was dedicated to the late K. Kian Ang, M.D., Ph.D., a head and neck cancer specialist who pioneered the use of molecular targeted agents with radiation therapy to improve patient survival rates.
Press release courtesy of the Radiological Society of North America