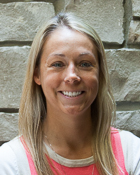 Please join us in congratulating Drs. Kristie Guite and Gregory Avey for being selected
to receive the Radiology/ Neuroradiology Resident Teaching Award by the UWSMPH Class of 2011.
Both Guite and Avey's outstanding dedication and continuous efforts to instruct UWSMPH
students made them ideal candidates for this award. The UWSMPH's Class of 2011 chose
both doctors, feeling that they had made an impressive and lasting impression on their class.
Guite is a first year resident in the Department of Radiology. She was also honored last fall, along with Drs. Meg Hanson, Mark Kliewer, Jessica Robbins, J.P. Parry, and Elizabeth Sadowski at RSNA for their paper, Imaging Features, Classification, and Clinical Implications of Mullerian Duct Anomalies. Avey currently holds a fellowship in neuroradiology.
Guite and Avey will be formally awarded at 10 a.m. on Match Day, March 17.
Again, congratulations to both doctors on this honor!