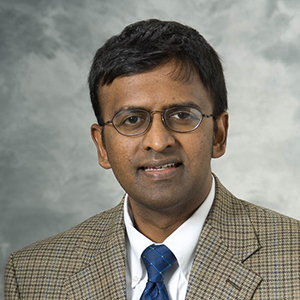 Vivek Prabhakaran, MD, PhD received a grant from the Boerger Research Fund for Alzheimer's Disease and Neurocognitive Disorders, which is an initiative of the American Society of Neuroradiology (ASNR) Foundation. The grant is worth $75,000 to be used over the next year for his project, "Use of AI for inter-modality conversion of brain MR to PET for diagnosis of AD, MCI, and aging normals." Dr. Prabhakaran serves as Principal Investigator and is collaborating with Veena Nair, MD and Vikas Singh, PhD. 
According to their website, the goal of this fund is "to fund imaging-based research that advance our understanding of Alzheimer's disease, help identify new treatment strategies, provide information to improve care for people with dementia, and further our knowledge of brain health and disease prevention. Our awards support investigators at every professional stage and always include categories specifically designed to help talented young scientists establish careers in Alzheimer's imaging research." 
Dr. Prabhakaran's work will use a retrospective clinical and research database training set to compare the quality of MRI derived Synthetic PET (Amyloid, Tau, FDG) and Ground truth PET (Amyloid, Tau, FDG) images and their diagnostic capabilities to ultimately discriminate AD, MCI, cognitively unimpaired subjects. 
Dr. Prabhakaran shared, "I was excited that Foundation of ASNR awarded this grant which will allow us to move forward with this project." Congratulations to Dr. Prabhakaran and his team!