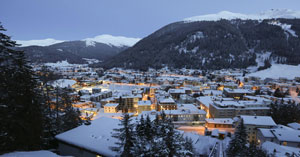 The International Diagnostic Courses Davos (IDKD) conferences were conceived by Swiss radiologists Dr. Alois Rüttimann and Dr. Peter Braun, after the pair attended several medical symposiums in the U.S. They saw the value of the Americans' interactive, Q&A-style session, a marked contrast from the more formal Swiss and German lectures. By 1969, they had established Diagnostic Courses Davos, which later became IDKD.
Today, the conference series has grown to include two more annual events in Athens, Greece, and Hong Kong. UW Faculty members have been consistent speakers at the conferences; Howard Rowley, M.D., attended the 2012 Davos course, and Michael Tuite, M.D., spoke in Hong Kong in 2013.
However, the 47th iteration of IDKD was our most prolific showing yet. Three faculty members designed and presented Q&A workshops, tied for the most from any American institution. Department Chair Thomas Grist, M.D., FACR, Jeffrey Kanne, M.D., and Lynn S. Broderick, M.D., FACR, administered sessions on a variety of thoracic imaging topics.
The presenters show several different cases, all centered around a theme. For example, Dr. Grist's presentation covered the imaging of diseased blood vessels in the chest and torso. The presenter typically shows several real cases pertaining to the topic, asking questions that help the audience understand the underlying pathology or any related conditions.