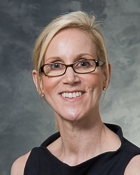 Chief of Breast Imaging Professor Wendy DeMartini, M.D., has been named Co-Director of the American College of Radiology (ACR) "Breast MR with Guided Biopsy" course. The course is a hands-on CME class held four times per year at the ACR Education Center in Reston, VA.
This course, led by Dr. DeMartini and University of Washington's Habib Rahbar, M.D., is designed to provide practicing radiologists with an intensive experience in reading breast MRI. Throughout the two-day program participants will develop their interpretive skills through extensive case reviews at individual workstations. In addition, hands-on MRI-guided biopsy workshops will provide training in accurate and safe MRI-guided biopsy techniques.
Attendees who complete a minimum of 100 cases will be awarded a Certificate of Proficiency, indicating they meet the requirements specified in the ACR Practice Guideline for the Performance of MRI Imaging of the Breast.
Doctor DeMartini is a dedicated breast researcher, interested in breast MRI accuracy as well as the development of a tool for predicting malignancy in MRI lesions. She is also active in the wider academic community through membership in the Radiological Society of North America (RSNA) and as Director-at-Large of the Society of Breast Imaging.