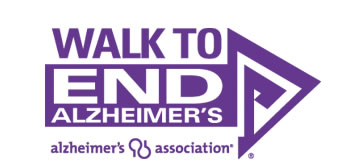 On Sunday, September 16, Team UW Radiology will participate in the 2012 Walk to End Alzheimer's in Madison, Wisconsin. This walk, put on by the Alzheimer's Association, is the nation's largest event to raise awareness and funds for Alzheimer's care, support, and research.
Alzheimer's is a progressive neurodegenerative disorder that causes severe problems with memory, cognitive thinking, and behavior. It is the most common cause of dementia in the United States. The disease usually shows symptoms in patients over the age of 65, but about four percent of the 5.4 million Americans with Alzheimer's show symptoms much earlier. Symptoms of the disease include confusion, irritability, mood swings, and long term memory loss, just to name a few.
In 1979, Alzheimer's Association was founded, and, since then, they have donated over $279 million towards Alzheimer's research, making them the largest, private non-profit funder of Alzheimer's research in the United States. The Association also publishes a scientific journal Alzheimer's & Dementia, and holds an annual conference dedicated to bringing together thousands of researchers to share information and findings.
The Walk begins at Monona Terrace (1 John Nolen Drive), with check in and registration from 9 a.m. to 10 a.m., and a Walk Ceremony to follow. The team goal is to have as many walkers as possible raise $500 for Alzheimer's Research.
Those people interested in joining the walk are encouraged to contact a Team UW Radiology captain (Alyssa Jaboby, or Mikia Lewis) or click the team link button below to register online. If you are interested in financially supporting the Team UW Radiology walkers, you can donate to the team or an individual walker through the same button.

All donations are greatly appreciated and will directly go to helping find a cure for Alzheimer's.