During its annual membership meeting, the Wisconsin Radiological Society and Dr. Timothy T. Flaherty, FACR, presented the 2013 Flaherty Lifetime Achievement Award to Dr. Andrew B. Crummy, Jr., FACR. Dr. Crummy is the third recipient of this award. Previous recipients have included Dr. Timothy T. Flaherty, FACR, who was a resident of Dr. Crummy's, and Dr. James E. Youker, FACR.
The WRS Flaherty Award is given by the WRS Board of Directors to individuals who have made extraordinary contributions to the practice of Radiology in the State of Wisconsin. Dr. Crummy's role in the development and worldwide dissemination of Digital Subtraction Angiography, involvement in establishing the subspecialty of interventional radiology and the Society of Interventional Radiology, long standing participation in research and teaching residents and fellows at the University of Wisconsin School of Medicine and Public Health, and contributions to the medical literature throughout his career made him an exemplary candidate for this award.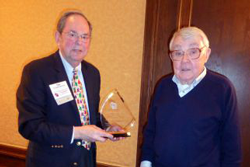 During his 33 years in invasive radiology, most at UW, the field has expanded from the vascular arena to the broad-based specialty of Interventional Radiology. With Crummy's help, the Interventional Radiology Section at UW now consistently has four faculty, a fellow, and two residents at all times and performs more than 60 procedures a week.
Crummy has authored or co-authored more than 200 publications and has presented more than 300 papers. He is also a founding member and one-time president of the Society of Cardiovascular & Interventional Radiology (SIR). He has served as chair of the UW Department of Radiology and was president of the University of Wisconsin Medical Staff. In 2011, the SIR awarded Crummy its Gold Medal for his efforts to improve medicine and the quality of patient care within radiology.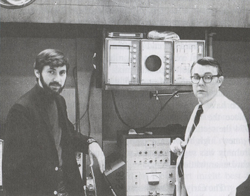 "Dr. Crummy's character, compassion, and intellect made a lasting impact on the Department of Radiology," says current Department of Radiology Chair Dr. Tom Grist. "His collaboration with Dr. Mistretta and colleagues in the Department of Medical Physics fostered the development of digital subtraction angiography, one of the most important advances in medical imaging in the 20th century."
In 2011, The Andrew B. Crummy Professorship was created to support teaching, research, and public service within UW Radiology. "This professorship pays tribute to the outstanding contributions Dr. Crummy made to our department, and also strengthens our goal to use innovation in imaging to improve health care, advance research, and provide first-class education," Dr. Grist said.
Current Andrew B. Crummy Professor Dr. Orhan Ozkan, has authored more than 30 papers in the field of interventional radiology, and his primary interests include portal hypertension, biliary interventions and interventional oncology.
"We are pleased that Dr. Crummy's influence can continue and grow through The Andrew B. Crummy, M.D., Professorship," said Dr. Grist.